Group honors Hawaiian Independence Day; discussion here noted
In the
Advertiser
, Gordon Pang has a brief
piece
about today's Ku'oko'a celebration from 3 to 7 p.m. at 'Iolani Palace, "the day 163 years ago when Great Britain and France formally recognized Hawai'i as an independent nation," and he concludes with a summary of the comments on this previous
thread
where I posted the announcement about the event:
The celebration has generated heated discussion on the Hawaiian Independence Blog Web site.

Opponents say that independence supporters are seeking to draw Hawaiians away from the American mainstream and seeking to perpetuate "ethnic cleansing" by downplaying the role of non-Hawaiians in the former kingdom.

Supporters of Hawaiian sovereignty applaud the renewed interest in the holiday and say it was the U.S.-backed republic that replaced Hawaiian Independence Day with Thanksgiving.
Update:
FYI, here's the actual text of the Anglo-Franco Proclamation:
Her Majesty the Queen of the United Kingdom of Great Britain and Ireland, and His Majesty the King of the French, taking into consideration the existence in the Sandwich [Hawaiian] Islands of a government capable of providing for the regularity of its relations with foreign nations, have thought it right to engage, reciprocally, to consider the Sandwich Islands as an Independent State, and never to take possession, neither directly or under the title of Protectorate, or under any other form, of any part of the territory of which they are composed.

The undersigned, Her Majesty's Principal Secretary of State of Foreign Affairs, and the Ambassador Extraordinary of His Majesty the King of the French, at the Court of London, being furnished with the necessary powers, hereby declare, in consequence, that their said Majesties take reciprocally that engagement.

In witness whereof the undersigned have signed the present declaration, and have affixed thereto the seal of their arms.

Done in duplicate at London, the 28th day of November, in the year of our Lord, 1843.

[L.S.] Aberdeen
[L.S.] St. Aulaire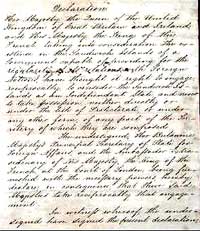 Posted: Sun - November 26, 2006 at 03:46 AM