Bumpy can help bring economic sovereignty, betterment of isles
Star-Bulletin
letters
:
Bumpy can help bring economic sovereignty

With so few races in doubt in the Nov. 7 general election, one thing that should stimulate interest among voters is the race for Office of Hawaiian Affairs trustees. No institution in Hawaii politics is more in need of reform than OHA. For years its board has been held captive by proponents of a failed scheme called "nation-within-a-nation" that has proven to be a cruel hoax. Congress and U.S. courts refuse to approve this race-based policy, showing the need to move to alternative ideas and faces on the OHA board.

Fortunately for the sovereignty movement, among OHA's at-large trustee candidates is Puuhonua Dennis "Bumpy" Kanahele. While Kanahele has earned his position as a leader in the Hawaiian independence movement, he has been working behind the scenes to establish opportunities for community-based economic development within a larger framework of sustainability that can help guide all of Hawaii toward greater economic independence.

Everyone can vote for OHA on Nov. 7. A vote for Bumpy Kanahele is a vote for the kind of change that empowers us all to make Hawaii a Pacific isles center for sustainable development and economic sovereignty.

Richard Weigel
Pearl City
Advertiser
letters
:
Kanahele would work for betterment of isles

I have not been so excited about an OHA election as I am about the fact that Dennis "Bumpy" Kanahele is running.

He has been gifted with much wisdom as a seeker of truth and knowledge as well as guidance from Ke Akua. Bumpy is one who is determined to stand for what is right and what is just, with the best interest of everyone in mind, from kupuna to keiki.

He has a plan to affect the political, economic, social and cultural arenas for the betterment of Hawai'i. More importantly, he has the determination to see this great vision through and a heart full of aloha, which energizes and compels him.

This capacity to dream big dreams is what has brought him where he is today and will continue to carry him into the future. I encourage you all, Hawaiian and non-Hawaiian, to vote for a man we can trust — a man who truly cares — Bumpy!

Kahu Kawika Kahiapo
Waimanalo
VoteBumpyKanahele.com
"Retail" politics in Hawaii...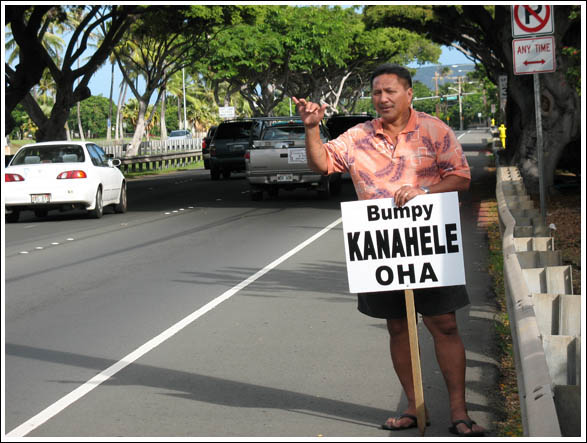 Posted: Thu - October 26, 2006 at 08:48 AM