`Oiwi Rights Panel; Concerts
Received via email. The panel is this afternoon...
From: "Kehau Watson" <kehau.watson @ gmail.com>
Subject: REMINDER: `Oiwi Rights. ICTM Concert at KCHS and Kako`o `Oiwi Concert (STARTING TODAY)
Date: Mon, 20 Nov 2006 06:36:13 -1000
Organization: Kako`o `Oiwi
Aloha kakou,
Just a reminder about THREE great events happening in the next two days… (yes, they've grown since the last email!!!)
First, on Monday at 3pm at the William S. Richardson School of Law, we will have an `Oiwi Rights Panel (hopefully the first in a series) about different legal issues currently facing Native Hawaiians. Speaking will be Uncle Walter Ritte (on La`au Point – and I believe this is his first appearance on O`ahu since they occupied La`au Point in Oct) with Hanohano Na`ehu and Ua Ritte (a.k.a. "The Hemowai Brothers") and Malia Nobriga and Mehana Hind will be talking about the `Iewe Bill. (Halealoha Ayau who was scheduled to attend and speak on Hui Malama will not able to join us due to a scheduling conflict. Apologizes for any inconvenience this may have caused.)
Then, that same night, at 8 pm at the Kamakakuokalani Center for Hawaiian Studies, the International Council for Traditional Music will be hosting a concert featuring music by Holunape and Pueo Pata and friends. This fantastic concert has been put together by non other than Aaron Sala, so it's sure to be an incredible event!  
The following night, Tuesday at 6pm, we are having a concert for Kako`o `Oiwi with HAPA and Ernie Cruz Jr. Again, this is the first in what we hope to be a series of events to benefit the Native Hawaiian community. Kako`o `Oiwi has made an arrangement with Punahou School for use of their facilities for fundraisers for Native Hawaiian Organizations. Tickets will be available at the door and a portion of all ticket donations may be tax-deductible. For more information, please visit
www.nativehawaii.org
.
Please forward this to others.
Mahalo,
Kehau
Here's the flyer for the Hapa & Ernie Cruz Jr benefit concert Tuesday: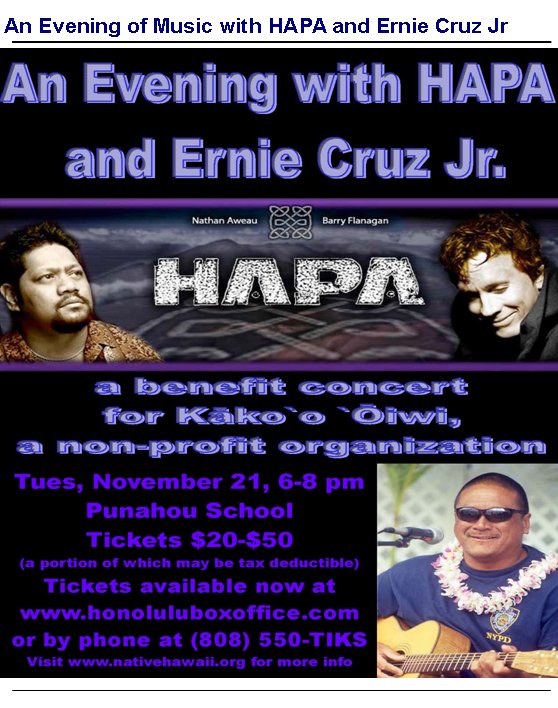 Posted: Mon - November 20, 2006 at 07:26 AM