Lo'i Kalo - One Year
Here's the lo'i I planted at Kapahu one year ago this Friday. Fortunately, Uncle John has had some folks help bury the weeds a couple times while it was maturing, and now it's close to ready to start harvesting.
See previous photos
. The most recent one is from August (sorry for not posting more, but last few times I was there I had either forgotten my camera, had dead batteries, or just forgot to take a picture), taken at about the same spot, and you can see how it has filled in with leaves a lot more, and how each plant has a lot more oha around it. But the leaves actually get smaller at this stage as it puts its growth into the corm. I've finally been reading the
Taro: Mauka to Makai
book that UH CTAHR had put out (now out of print unfortunately), and it has great charts and illustrations of the life cycle. Forever learning, and hardly anything more satisfying. I have some more photos of the other patches I've been following to post shortly, too.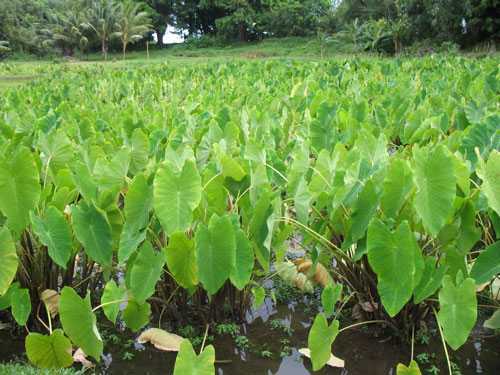 Posted: Mon - December 11, 2006 at 07:36 PM