Mahalo to OHA for Kipahulu Ohana grant
In the extended entry I have posted a
press release
about several grants the Kipahulu 'Ohana has received, including $96,575 from the Office of Hawaiian Affairs for our Kapahu Living Farm project. (For those who aren't already aware, I'm the Executive Director of the Kipahulu 'Ohana.) While I have been critical of OHA's handling of the Akaka bill, I obviously think that supporting programs like ours are among the things that OHA should be doing, and we are very grateful for their support.
I do want to mention one small constructive criticism about this grant process, however, which is how long it took. The application was submitted in April 2005. The grant was finally approved by OHA's board in early December. But only this week are we
finally
getting our first check. And this isn't a reimbursement grant either—the first check was supposed to be issued up front. But we had wait seven months, with the grant period already half over, before receiving it. I don't think it is the fault of any one individual (and I sure
hope
this had nothing to do with politics and my free expression regarding the Akaka bill here!), but it has definitely slowed down our ability to move forward for the last few months while we were waiting for the grant process to inch along. I do hope OHA board and staff can address this problem and make things a bit more timely.
But despite all that, again, I want to say mahalo to OHA's trustees for approving this grant and the staff who I've been working with. We'll put it to good use!
Here's what OHA is supporting...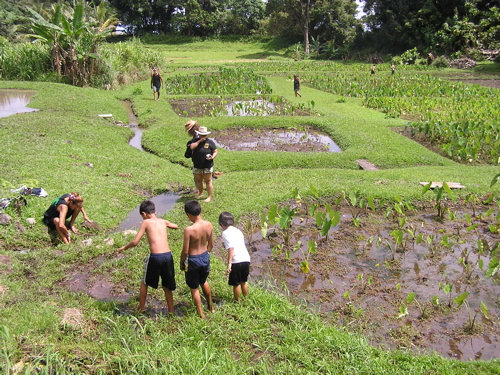 Update 7/7:
The
Maui News
covered
our press release.
BTW, this was actually a resent of a press release that I put out in May and nobody picked it up that I noticed, so I sent it again, but in the meantime we also got a $5000 grant from Group 70 Fund, also for Kapahu Living Farm, and I forgot to add that, so mahalo to them as well!
PRESS RELEASE
FOR IMMEDIATE RELEASE July 3, 2006
Kipahulu Ohana, Inc.
P.O. Box 454
Hana, HI 96713
Contact: Scott Crawford, Executive Director
ohana @ kipahulu.org
Kipahulu 'Ohana awarded grants from OHA, HTA & Atherton
The Kipahulu 'Ohana has been awarded a grant of $96,575 from the Office of Hawaiian Affairs (OHA), $15,000 from the Hawaii Tourism Authority (HTA), and $5,000 from the Atherton Family Foundation, for the operation and expansion of its Kapahu Living Farm project.
Kipahulu Ohana is a 501(c)(3) organization dedicated to the practice and promotion of Hawaiian culture, the conservation and restoration of natural resources, and the development of culturally based economic opportunities in the remote East Maui area of Kipahulu.
The funds from OHA and the Atherton Family Foundation will support the organization's Kapahu Living Farm project within Haleakala National Park where ancient taro patches have been cleared, restored and returned to traditional organic production and other Polynesian introduced crops are being grown. The Kipahulu 'Ohana entered into Cooperative Agreement with Haleakala National Park in 1995 to work with the National Park Service "to preserve, maintain, restore, and interpret the Kipahulu Ahupua'a for public use and enjoyment."
Kipahulu `Ohana hosts educational tours, interpretive hikes, workdays and other activities at Kapahu Living Farm, where thousands of locals and visitors have been exposed to traditional Hawaiian culture and resource management practices. Numerous schools and other groups have participated in the farm's development over the years, from Maui, other islands, and internationally. Kapahu Living Farm also provides kalo and poi for the East Maui Taro Festival and Hana Aloha Week each year, as well as for various family luaus and other events.
Tweetie Lind, co-founder and Secretary/Treasurer of the organization, said: "We're very grateful for the support of our work and excited about the opportunity these grants provide. With these grants we'll continue to open new taro patches and expand our educational programs. We look forward to providing more of Maui's youth and residents and visitors of all ages with hands-on Hawaiian cultural experiences, and providing healthy traditional foods for our local community."
Among the items funded through the OHA and Atherton grant awards are staffing, including farm assistants to work project director John Lind, plus equipment and supplies related to the farm's activities over a one-year period. The HTA grant is for the development of a training program for cultural hosts and interpretive hike guides.
Kapahu Living Farm is one of several of the organization's projects, which as part of an overall 'ahupua'a management approach that includes a traditional hale near the park visitor center for the demonstration and sales of traditional craft and agricultural items, and the protection of endangered Hawaiian species in the native forest of upper Kipahulu Valley.
For more information call 808-248-8673 or visit Kipahulu 'Ohana's website at:
www.kipahulu.org
.

###
Posted: Thu - July 6, 2006 at 02:20 PM