Po
In loving memory...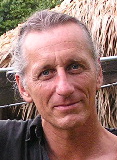 one year
since
we lost a dear friend, Hawaii lost a sincere champion, and the world lost a good man. but he's still helping na kupuna, i'm sure.
visit the good Rev. St. John's
memorial page
for David, and please read his final words, his last pule.
May this pain and suffering in some small
way lessen the pain and suffering of all beings.

May through the grace of compassion, love
and awareness of truth, this moment deliver
my body, mind and spirit into a state of humility,
trust, and greater reverence for all life.

May my past and present ignorance be purged
in the holy breath of sacred truth now and forever.
May my surrender be complete, authentic, and eternal.

Hear this prayer perfect beings of light and
bless my life path with your healing presence.
I have been blind to the truth, arrogant and
distant from the true nature of God's perfect
love, compassion and wisdom.

I alone am responsible for my present state
of being and pray for the insight, courage and
wisdom to let go of the past and present habits
and indulgences that are the root of my suffering.

This life belongs to the whole of life.Please
strengthen my resolve and capacity to live in
accordance with the virtues of unconditional
love and service.

With all my heart I beg for, pray for, and
surrender into peace, healing and wholeness.
Heal this life and make whole this heart in
service to the infinite Tao.

Dissolve duality and free this breath of life to follow in the
footsteps of future masters in the great
circle of universal life.

Empty this ear and mind of worldly attachments
and desire, and inspire this life into spirit of eternal
love and service to the one.

If I am to live, teach me to live in peace,
free of the constraints of ego and materialism.
If I am to die, let my death awaken the true
nature so that any rebirth may be one of love
and service.

Into the light of lights, the road of emptiness,
the heart of truth, I release this mortal eternal
nature to become that which I truly am.

May all beings feel the perfect love of our
true nature and become free of the pain and
suffering and delusion of this life.

May peace prevail in the hearts of all beings,
now and eternally.

May all beings be free to return to the perfect
path of truth, simplicity and love.

- David Po-
Final Words
Posted: Thu - February 9, 2006 at 02:21 AM